It seems a little bit unfair that the first decision you have to make in the wedding planning process is one of the most stressful. You can't have a wedding if you don't have a place to host the wedding, so after about 2 days of engagement bliss, it was time to get down to business and find somewhere to get this thing done.
There are a lot of beautiful places in Chicago, but
as already mentioned
, there are also a lot of couples who want to get married and have their receptions on those beautiful places. To narrow down our choices, I made a mental list of things we HAD TO HAVE in a venue.
1. Downtown Chicago (no suburbs)
2. Capacity for 150 guests and a sizable dance floor
3. Within close proximity to hotels
4. Within close proximity to Quigley Prep
5. Unique-feeling space (no generic banquet halls/hotel ballrooms)
A few early contenders:
Cafe Brauer
Photo credit: staciemariehall.blogspot.com
Photo credit: blog.andrewcollings.com
I live about 2 blocks away from
Cafe Brauer
. I love
my neighborhood
and
the park
it's named after, and I would LOVE all our guests to spend some time in LP. It is a beautiful, Prairie-style building that overlooks South Pond in Lincoln Park. It definitely satisfies #1, 2 and 5, but not #3 or 4. It's also a bit over-budget for a Saturday night reception. Bummer.
Art Institute Stock Exchange Room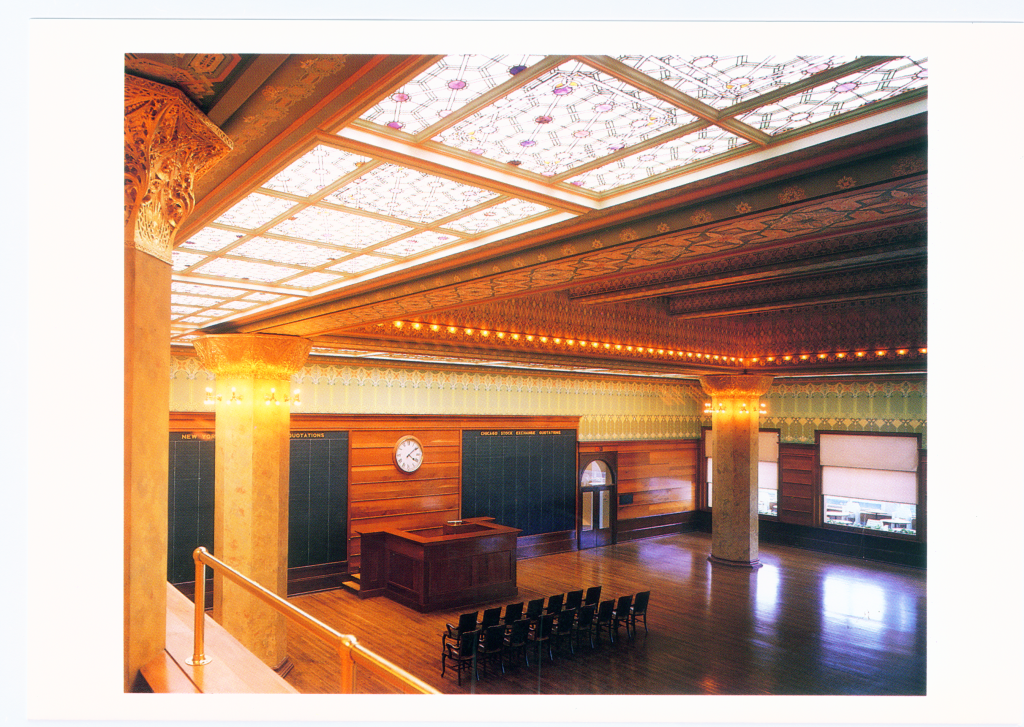 Photo credit: chicagopostcardmuseum.org
The original Chicago Stock Exchange was completed in 1894. The building was designed by Sullivan and Adler, a prominent Chicago architecture firm. The original building was torn down, but before it was demolished, sections of the Trading Room were preserved. The Trading Room was reconstructed in the 1970s at the
Art Institute
. This space is gorgeous, historical, very Chicago, and perfect for us because Adam works in finance. It satisfied #1-3 and definitely #5, but was a bit far from the church. It also would've been at the tippy-top of our budget. Adam was really bummed when we had to eliminate this one.
Millennium Knickerbocker Hotel
Photo credit: pardonmyfrenchie.wordpress.com
A gorgeous hotel built in the 1920s, the
Millennium Knickerbocker
is a stunning venue located on the Magnificent Mile. Although Adam and I didn't really want a hotel ballroom wedding, we made an exception for this incredible space. Yes, that is a light-up dance floor. I obviously need it in my life. Making it even more special is the fact that the window from the hotel room Adam proposed in looked across an air shaft (so romantic) to the back side of the Knickerbocker. It satisfied every requirement on my mental checklist. We emailed them and found out it was in our price range. Hooray! But then they told us our date wasn't available. We weren't flexible at all with our date (more on that later), so it was a huge disappointment that we had to cross this off the list.
The search rolls on!